Shop
Celebration: 30 Years of the Oxford Symposium on Food & Cookery.
Celebration, our own full-colour celebratory publication (what else?) features recipes and memories gathered from 31 of our distinguished Symposiasts past and present to mark the 30th anniversary of the oxford symposium.
Published in 2011, Edited by Jill Norman
80 pages, full colour, 14.8 x 20 cm.
£10 plus post & packing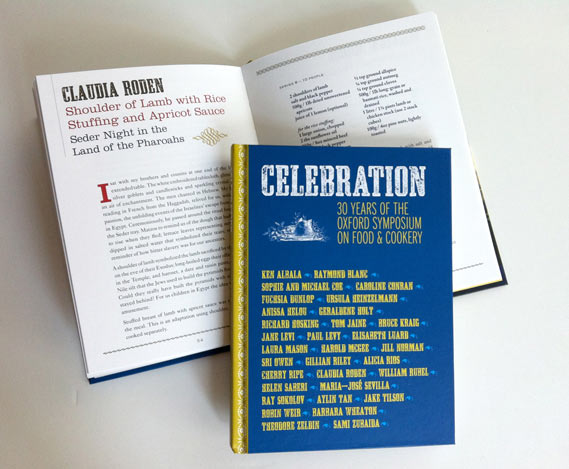 Any profits after we've covered basic cost of printing (our only expense) will go to Friends of the Oxford Symposium – of which more during the Symposium itself. Meanwhile, the Trustees acknowledge the generosity of C. Hoare & Co's Golden Bottle Trust in supporting the publication through a contribution towards the print-bill.
| | | |
| --- | --- | --- |
| CONTRIBUTORS: Ken Albala Raymond Blanc Sophie & Michael Coe Caroline Conran Fuchsia Dunlop Ursula Heinzelmann Anissa Helou Geraldene Holt Richard Hosking Tom Jaine | Bruce Kraig Jane Levi Paul Levy Elisabeth Luard Laura Mason Harold McGee Jill Norman Sri Owen Gillian Riley Alicia Rios Cherry Ripe | Claudia Roden William Rubel Helen Saberi Maria-José Sevilla Ray Sokolov Aylin Tan Jake Tilson Robin Weir Barbara Wheaton Theodore Zeldin Sami Zubaida |