Who We Are
T

he oldest-established and most respected of its kind, the Oxford Symposium on Food & Cookery is a network of food writers, historians, chefs, scientists, archeologists, paleontologists, botanists and anyone else with more than just an interest in food.
Unlike conventional conferences it is fiercely independent and open to all, with no academic qualifications required. The physical gathering takes place over a July weekend at St. Catherine's College, Oxford, where 250 places are allotted on a first-come first-served basis. In 2020 we expanded the table to 500 attendees by going virtual, employing easily-mastered technologies, and we intend to combine the two formats in the future. Currently we are in the process of launching a series of monthly online live events, the OFS Kitchen Table.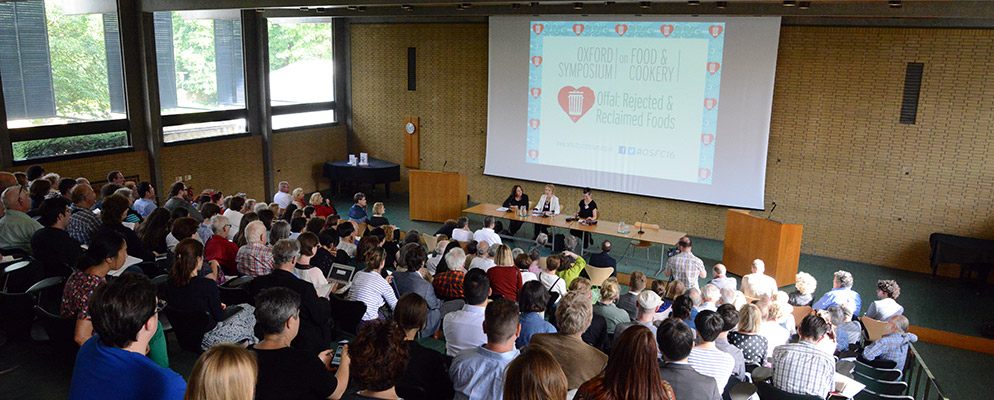 Both at St Catz and in our virtual "spaceship", we maintain a tradition of inclusivity by encouraging dialogue between presenters and audience, many of whom will be well-versed in the authors' subject. The annual theme is chosen by popular vote at the conclusion of each Symposium.
Keynote speakers are invited for their ability to guide us in new directions. They have included Harold McGee, James Rebanks, Paul Rozin, Ruth Reichl, Sidney Mintz, Simon Schama, Laura Shapiro, Hervé This, Tim Lang, Carolyn Steel, Marion Nestle and Richard Wrangham. Nevertheless, the papers presented by our Symposiasts themselves remain the heart and soul of the gathering. They are selected by an anonymous committee of writers, publishers and editors.
Equality and community are further explored during our famously convivial meals designed to further explore each year's theme. Chefs who have donated their services include Raymond Blanc, Fergus Henderson, Jeremy Lee, Olia Hercules, Asma Khan and David Tanis.
As a Registered Charity with a remit to educate and inform, the organisation relies almost entirely on volunteer labour by its Board of Trustees. Discussions on Facebook, Twitter and Instagram continue throughout the year and influence the direction the organisation takes. Our podcasts, Ox Tales, are available on free download, as are all past papers from 1981 to three years before the current date. Printed papers are published one year after presentation, allowing the post-Symposium revisions and editing that ensure that the Symposium's Proceedings represent an important resource valued by academics and their students as well as those who share a common interest.