Who We Are
T

he Oxford Symposium on Food & Cookery is an annual gathering of some 250 food-writers, culinary historians, chefs, scientists, archeologists, paleontologists, botanists and anyone else whose interest lies in the history and culture of food and cooking.
The gathering takes place over a single weekend in early July at St. Catherine's College, Oxford and is open to all via the website or by application to the Registrar from mid-December of the previous year. Places, limited by college facilities, are allotted on a first-come first-served basis making early registration advised. Registration opens in mid-December. No academic qualifications are required of either attendees or paper-presenters, and all Symposiasts, including Trustees, pay their own way.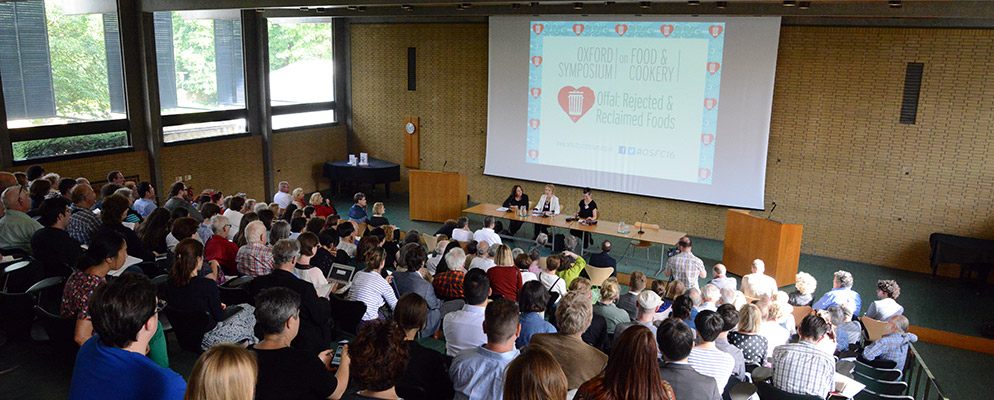 As the oldest-established and most respected of all food-related Symposiums, we maintain a tradition of inclusivity throughout the weekend by encouraging dialogue between presenter and audience, many of whom will be well-versed in the author's subject and have read the paper in advance. Subjects chosen for discussion alternate between concrete (Seeds, Offal) and abstract (Landscape, Power) and are chosen by popular vote at the conclusion of each Symposium. Papers for presentation and subsequent publication are selected through short proposals submitted in advance to a small anonymous committee of writers, publishers and editors.
Equality and community are further explored during our famously convivial meals – only possible through donations of expertise, wine and food by invited chefs and wine-makers – taken at communal tables in the college's magnificent dining-room. Chefs who have donated their services to past Symposiums include Raymond Blanc, Fergus Henderson, Jeremy Lee, Olia Hercules and are designed to accompany each year's theme with ingredients often provided through generous sponsorships from individual producers and even whole countries.
Our distinguished Speakers are invited for their ability to guide us in a direction we might not have chosen for ourselves, and we hope, by encouraging Speakers to remain as our guests throughout the weekend, we can influence them in return. Of recent years our Speakers have included Harold McGee, James Rebanks, Paul Rozin, Ruth Reichl, Sidney Mintz, Simon Schama, Laura Shapiro, Hervé This, and Richard Wrangham. Nevertheless, the papers presented by our Symposiasts themselves, both new-comers and old-timers, remain the heart and soul of the gathering.
As a Registered Charity with a remit to educate and inform, the organisation relies almost entirely on volunteer labour by our Board of Trustees assisted by our Registrar. We are a lively presence on Facebook, Twitter and Instagram and welcome involvement in the on-line discussions that continue throughout the year and influence the direction the organisation takes. Our podcasts, Ox Tales, are now available on free download, as are all past papers from 1981 to three years before the current date. Printed papers are available for purchase from Prospect Books at the Symposium or via the publisher one year after presentation, allowing the post-Symposium revisions and editing that ensure that the Symposium's Proceedings remain a resource valued by academics and their students as well as those who share a common interest.