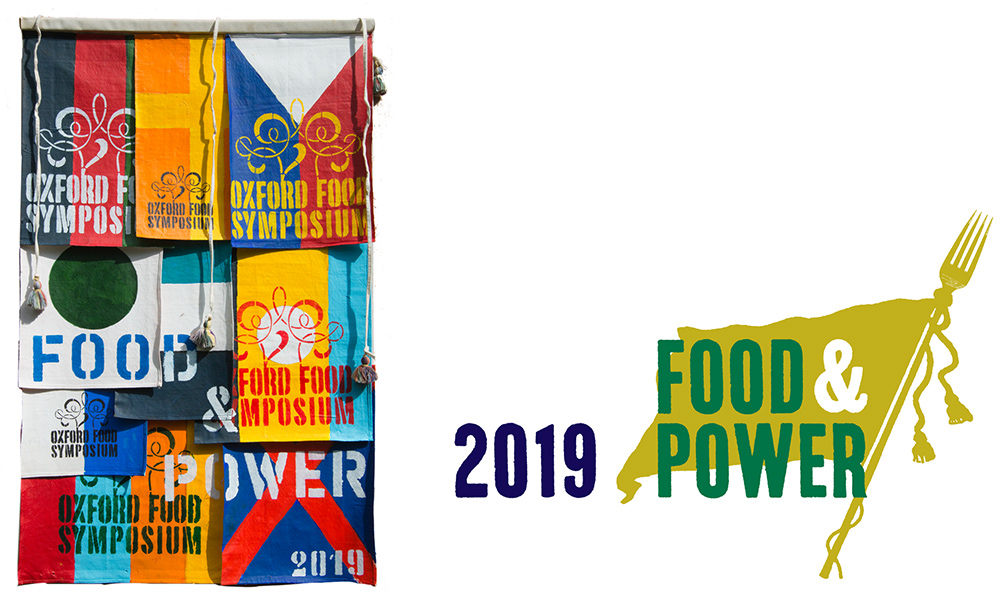 Symposium dates:
12-14 July 2019 at St Catherine's College, Oxford
PLENARY SESSIONS – LECTURE THEATRE
Jane Grigson Memorial Lecture  Joanna Blythman The Power of Enjoyment in the Face of Industrialized Food, introduced by Geraldene Holt.
Roberta Wedge Whoever Wields the Pen, Stirs the Pot: Wikipedia's Power to Shape Reality introduced, by Polly Russell.
Marion Nestle Power in the Food System: Big Food vs. Everyone Else, introduced by Cathy Kaufman.
Carolyn Steel A Tale of Two Cities: Paris, London and the Political Power of Food, introduced by Polly Russell.
Zita Cobb Lessons from a Small Island for a Small Planet, introduced by Ursula Heinzelmann.
OSFC Rising Scholar Presentation: Siobhan Dooley Serving Up A Slice of Africa: Food, Drink, Race, and Identity in Empire Adventure Stories introduced by Cathy Kaufman.
(watch some of these talks on video here)

EVENTS:
Wiki-editathon: Food & (mostly) Women, organized by Roberta Wedge.
Folger Manuscript transcribathon, organized by Heather Wolfe with Amanda Herbert.

MEALS
The Power of Food in the Columbian Exchange devised by Sandra Mian and cooked by Liz Galicia of El Mural de los Poblanos, with Tim Kelsey and the St Catz Kitchen.
Tostadas de guacamole con chapulines:
fried maize tortillas with avocado salsa and grasshoppers.
Tlacoyos de frijol con salsa de chipotle cebolla fresca picada y queso fresco.
Maize tortillas, filled with beans then fried, served with a chipotle salsa, raw minced onions and fresh cheese.
Ensalada de nopal. fresh nopal (cactus paddle) salad.
MAIN COURSE
Mole poblano con guajolote, arroz a la Mexicana.
Turkey cooked in mole poblano, Mexican rice.
DESSERT
Pan de elote con amaranto.
Fresh maize (corn) and amaranth cake.
Traditional Puebla sweetmeats. Tortita de Santa Clara. Camotes – candied yam. Macarrone.
DRINKS
Vino blanco 2018 casa Madero 2V
Chardonnay/Chenin Blanc
2018 Casa Madero Gran Reserva Chardonnay
Mezcal Los Danzantes
Saga from Cervecería 5 de Mayo
Sweet white wine, 2018 Casa Madero Cosecha Tardía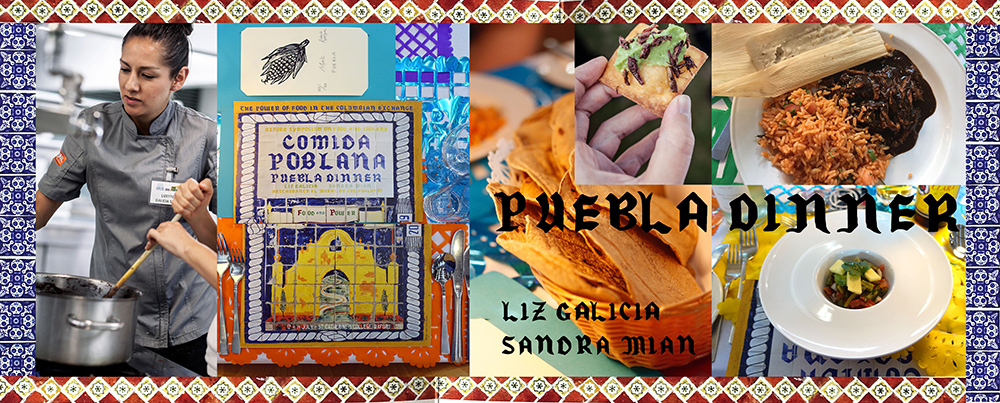 Saturday lunch
The Healing Power of Cooking Together, devised by Leila Hedjem and Gamze Ineceli, and cooked by Munira Mahmud, Fatima Odonkor, Halima Al-Huthaifi, and Lillian Olwa along with Tim Kelsey and the St Catz Kitchen.
Fattoush Salad with Sumac and Pomegranate Dressing.
Citrus and Mint Yogurt Spread.
Spicy Peanut Dip with Yemeni Bread.
Aubergine Masala with Basmati Rice.
Rose Petal Scented Fruit Salad and Indian Shortbread.
WINE
2017 Eckelsheim "vom Porphyr" Riesling trocken – Sina Mertz
2018 Westhofen Riesling trocken – Katharina Wechsler
2016 Westhofener Morstein Riesling trocken – Katja Rettig
2017 Nierstein "vom Rotliegenden" Riesling trocken – Lisa Bunn
2017 Schwabsburg Riesling trocken – Christine (F.E.) Huff
2017 Laubenheimer Edelmann Riesling trocken – Mirjam Schneider
2017 Kalkader Riesling trocken – Eva Vollmer

Saturday dinner
The Power of Frugal Greek Cooking devised and cooked by Aglaia Kremezi and Chef Michael Costa of Zaytinya, with Tim Kelsey and the St Catz Kitchen.
MEZE
Tsiros – smoked mackerel with dill vinaigrette on Kythera olive oil rusk.
Dakos – barrel aged feta on crumbled barley rusks, with cherry tomato, thyme and coriander relish.
Olive Oil with Cyclades Herbs.
Kochlee – petit gris snails braised in onion and tomato sauce.
Loza – cured, smoked and air dried pork from Kea – macerated in wine, rubbed in winter savory, allspice, and pepper.
Santorini Fava – pureed split peas topped with capers, scallions, parsley, and radicchio; served with eastern Mediterranean red pepper vinaigrette.
MAIN COURSE
Arni Tsigariasto – slowly braised lamb with onions, lemon, and Greek mountain oregano.
Patates Riganates – olive oil and lemon baked potatoes with mustard and oregano.
DESSERT
Portokalopita – orange and crumbled phyllo cake with strawberries and manouri cheese drizzled with grape molasses.
WINES
Wines from Kechris: 2018 Afros, 2018 Roza.
Pavlidis 2015 Thema Syrah & Agiorgitiko
Parparoussis 2015 Mavrodaphne
Rouvalis 2017 Tsigello Mavrodaphne
Zafeirakis 2016 Limniona
Tetramythos 2017 Black of Kalavyrta Agiorgitiko
Skouras 2013 Grande Cuvée Nemea
Cavino 2013 Mega Spileo Grand Cave Mavrodafne & Mavro Kalavritino
KECHRIS 2018 Tear of the Pine Assyrtiko
PAPAGIANNAKOS 2018 Savatiano Old Vines
Parparoussis 2016 Muscat de Rio Patra
2003 Mavrodaphne ReserveSigalas
2013 Vinsanto Assyrtiko & Aidani
Cavino 2018 Samos Vin Doux
2001 Mavrodaphne Reserve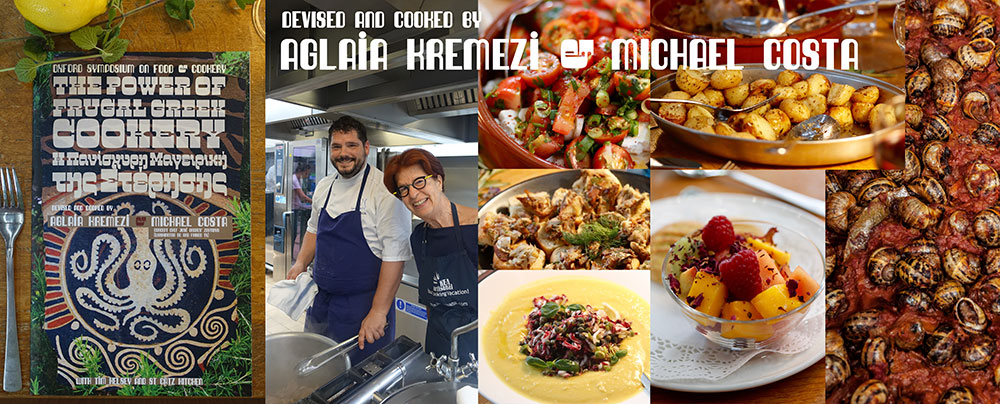 Sunday Lunch
With Her Hands: food sourced from women: farmers, bakers, cheesemakers, an apiarist, and producers at Borough Market devised by David Matchett.
Bread by Nadia Gencas at Karaway Bakery: Grandmothers Bread, Dark rye with nuts and raisins, White Sourdough, Roasted Onion and Dill, Lithuanian scalded rye.
Cheese from Neals Yard: Durrus by Jeffa Gill, Appleby's Cheshire made by Sarah Appleby. Tymsboro by Mary Holbrook R.I.P. St Cera and St Jude by Julie Cheyney. Brefu Bach by Carie Rimes.
Vegan Cheese from Angela Chou at I Am Nut Ok.
Selection of Preserves fromElspeth Biltoft at Rosebud Preserves.
Italian Raw honey by Anna Borzonni via Sam Wallace at From Field and Flower.
Salad selection from Kath Dawson at Kaths Veg.
Traybakes by Alice Williams and the empowered bakers from Luminary Bakery. Vegan Ice cream from Ruby and Grace by Deborah Grace Taiwa.
WINE:
2018 Furmint from Heidi Schröck, Weinbäuerin in Rust/Burgenland, Austria

PARALLEL SESSIONS
Culinary Symbolism – hosted by Scott Barton
D Koczanowicz & L Koczanowicz – Weaponizing Food: Communism, the Democratic Transition and Transformations of Taste.
Simona Moti – Meat and Power in Communist Romania.
Stephanie Bryan – 'Under the Cover of Savory Vapors'—Opossums, Power, and Jim Crow Politics.
Jessica Kenyatta Walker – The 'Power' of Health in Soul Food: Perspectives from Edna Lewis and Vertamae Grosvenor.
Technologies & Labor – hosted by Harold McGee
Arielle Johnson – Marx in my Food Technology? …the Recent Dialectical Emergence of Post-Modernity in Cuisine.
Christian Reynolds – Sustainable Gastronomy: Power and Energy Use in Food – Is It Possible to Fight Climate Change through Cookery?
David Sutton – Lebanese Sea Power: Food and the Phoenicians. Cordula Christina Peters – Staging: Exploitation of young dreamers or generosity of successful chefs?
Change and Continuity – hosted by Voltaire Cang
Frieda Moran – Encounters of Food and Power in the Australian Colonial Contact Zone. Hanover M Vale – The United States' Attempt to Restructure Philippine Foodways Following the Philippine-American War.
Judy Corser – Potlach: Ceremonial Food and Family Power.
Féilim Ó Cuireáin – Cooking in Calais: Examining the Creation of Food Sovereignty when Distributing Food in the Jungle.

Class – hosted by Máirtín Mac Con Iomaire
Janet Beizer – Shooting them Softly: Photographing Lower-Class Eaters in Belle Époque Paris.
Samantha Presnal – Everything but the Kitchen Syndicate … France's First Trade Union for Female Cooks.
Kathryne Crossley – 'Using their native cunning': Oxford College Servants and Their Perquisites in the Nineteenth Century.
Gender norms – hosted by Don Lindgren
Laura Shapiro 'To Make the Whole World Homelike': Gender and Power in the Food Revolution
Voltaire Cang Sushi, Sake, and Women
Koby Song-Nichols The Culinary Identity Constructions of the Eaton Sisters
Imperialism – hosted by Anne Urbancic
Or Rosenboim – A Food Utopia? Imagining Libya in Italy's Liberal Empire.
Nicholas Tošaj – Empire of Wheat: Bread, Power and Colonialism in the French Empire (1890-1940).
Mehmet Faith Tatari – From Switzerland to South Caucasus: Colonial Legacy, Artisanal Dairy Farming, and Gravyer Cheese.
Bodily Limits – hosted by Mark McWilliams
Carolyn Tillie – The Shared Power of Hunger Artists and Viennese Actionists.
Svetlana Tcareva – Cannibalism and Power: Resituating the Narratives of Post-Soviet Foodways Through Vladimir Sorokin's Feast.
Jacob Matthews – Not in One Place: Parenteral Nutrition and Time-Space Compression.
Laws and Legislation – hosted by Cathy Kaufman
Richard Shepro – True Bread, Pizza Napoletana and Wedding Cakes: The Changing Ways Legal Power Has Shaped Bakers' Lives.
Charity Robey – 'Mom' vs the FDA: How Laurie Nolan made the FDA Change the Tilefish Warning and Then Cooked Dinner.
Nina Vizcarrando – Subsistence Depression in Alaska: Who Gets Paid?
Feminism – hosted by Laura Shapiro
Don Lindgren – American Community Cookbooks and Women's Empowerment in the 19th and early 20th Centuries.
Alex F Ketchum – Counter Narratives: American and Canadian Feminist Restaurants from 1972-Present.
Sasha Gora – Muckamuck: Restaurants, Labour, and the Power of Representation.
Street Food – hosted by Naomi Duguid
Vidya Balachander Ammachis: Challenging Gender Norms in Sri Lanka's North Scott Barton Imagining Fritter Power: Diaspora Centered at the Margin
Propaganda – hosted by Rick Shepro
Kesia Kvill Canadian Women, Government, and Power at the 1917 Food Control Convention
Anne Urbancic There's a Crisis. There's a Crisis: The Power of Laws and Lies in the Italian Fascist Kitchen
Gastrodiplomacy & Education – hosted by Janet Beizer
Paul Brummell Gastrodiplomacy and the UK Diplomatic Network
Jennifer L. Holm Eating French, Being French: Gastronomy and National Identity in Contemporary France
Renaissance Performance – hosted by David Sutton
Allison Fisher Food as Power in the Letters of Isabelle d'Este
Michael Krondl Sugar and Show: Power, Conspicuous Display and Sweet Banquets During Henri III's 1547 Visit to Venice
Andrea Maraschi The Power of Eating Together, or the Story of Why Banquets were the Core of Marriage in the Past
Appropriation/Hybridization – hosted by Rob McKeown
Azri Amram Challenging the Power Relations: Hybrid Foods in a Palestinian Town in Israel Fozia Ismail Food, Identity Politics, and Political Correctness in the UK
Christopher Laurent Making Yakiniku Japanese: Erasing the Korean Contribution from Japan's Food Culture
Imprisonment – hosted by Doug Duda
Paula Fujiwara Food Production, Consumption and Resistance by Japanese Americans Incarcerated by the US Government During World War II
Melissa C. Gouge and Jennifer L. Hostetter Hunger Strikes as Weapons of Resistance inside Farms and Prisons in the United States
Guila Nicolini and Alice Mulhearn Going Hungry in the Magdalene Laundries (1922-1996)
AFTER DINNER EVENTS
Len Fisher and Elisabeth Luard, Food and Power: An Interviewer Confronts a Politician to Reveal Uncomfortable Truths about Our Food Systems.
Altar de Meurtos A Different Kind of Power: a place to honor loved ones and share memories, culinary and otherwise.
Amanda Herbert, Blood Sugar: Creatively Remaking Sweetness and Power, on the Stage and in the Archives.
A convivial discussion on engaging with food policy hosted by David Matchett from Borough Market and Ellie Costigan from Market Life.
Symposiast Laura Shapiro reflects on the 2019 Symposium here.