Naomi Duguid: Final Report from a Crewmember
Each year the Symposium is like a vigorous green garden of aromatic and sometimes spicy conversations and ideas. And this year, magically, even more so, as we travelled on the good starship VSYMP for nearly four weeks. Now that we've docked, to give us time to plot our next travels, it's time to reflect on where we've been. What a voyage!
When the Trustees realised that we'd need to either go virtual or completely cancel the Symposium this year, we opted for the unknown: "Let's try to give people the chance to connect over food and thinking and conversation about food in all its aspects, even if it all has to happen at a distance." It was an ambitious, perhaps audacious is the word, decision.
And this experience we've all been on, that has depended on the hard work and generosity of many, especially all our wonderful tech support people and our dedicated, congenial web developers at Igloo, and some good luck too, has been more memorable than any of us could have imagined.
I held my breath with anticipation on June 30th when the VSymp site went live for the first time. And then I remember laughing with pleasure at its spaciousness and its possibilities: recipes! photos! cross-connections with other Symposiasts! The Fringe! a train ride to Oxford! And our Chair Elisabeth Luard welcoming us all with charm and grace.
Between that day and the start of the Symposium weekend a lot of tech matters still needed to be figured out, and they were, sometimes on the fly, by a committed and sometimes crazed crew led by our Director Ursula Heinzelmann and Trustee David Matchett. Could we do breakout sessions at our social events on the weekend? How would it work if we just did it arbitrarily? These were some of the many questions that got answered by doing. The tech hosts moved us around, we met each other and chatted in various configurations. The whole process was fun and very freeing in many ways.
On the noticeboard and in those early social conversations I learned that some people had already made some of the recipes from David Tanis and Asma Khan, and from Fogo Island, and were planning to make more. That cooking and tasting and reporting back continued through the weeks of the conference, reminding us all that there are many ways to share food.
It was a treat to be welcomed to the weekend on Friday afternoon by our president Claudia Roden, sitting gracefully in her green garden, rather than up on a platform. Her words and her presence are always a promise of good things to come, as well as a reminder of the many years Symposiasts have been meeting to talk about food in all its aspects, and to eat together.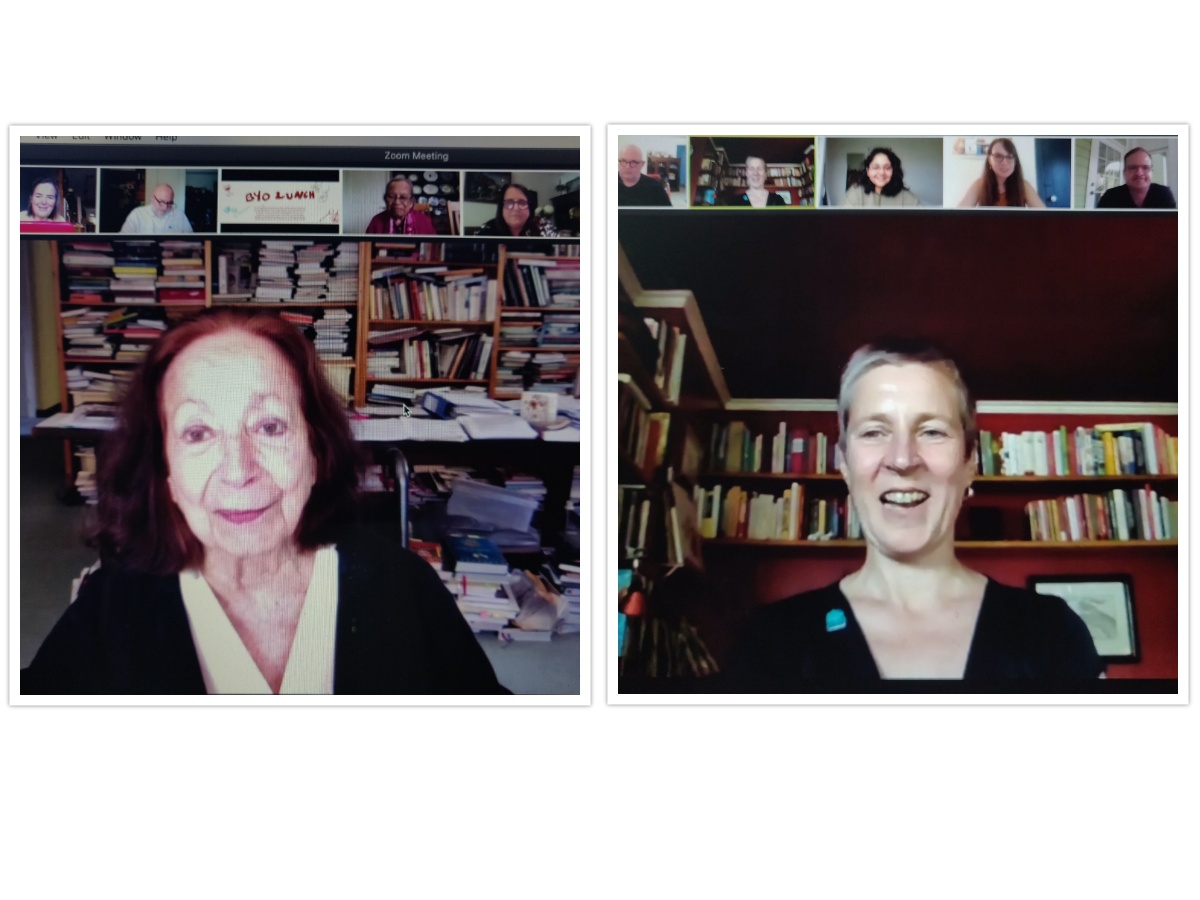 Happily our tech team had taped a backup of philosopher Charles Spence's opening keynote on Gastrophysics, because though, ironically, he was one of the few Symposiasts actually in Oxford in July, he had technical problems and could not deliver his presentation live. We did get to ask him questions afterwards, in a discussion hosted with ease by Len Fisher, but not to see him, for his tech problems continued. In some way those first-session glitches felt like a good-luck omen to me: if we could survive that early bumpy ride, then the Starship was truly launched.
There were great conversations after the keynote, over gin from the Isle of Harris (or a substitute), and then we moved on to Fogo Island, with its beauties and its hardships, and a glimpse of the foods and traditions that sustain the people of the island. At the bar afterwards the talk was lively. We never managed to go to breakout sessions, because we were all so entranced by what we were hearing from Zita Cobb and chef Timothy Charles of Fogo Island Inn, about the variety of berries on the island, the traditional way cod was fished and salted, and much more. Then it was time to watch Fabrizia Lanza's moving film "Amaro" from Sicily, our third island of the evening.
Saturday's "One Good Spice" lunch was a knockout, with recipes by David Tanis and spice and herb wisdom from Jill Norman. The Tanis cooking videos got applause from many, with their calm tone and lovely clarity. And Instagram has been loaded with images of people's versions of his courgette pancakes and his black-pepper lamb. In the afternoon we had our second fascinating keynote, by scholar of Chinese herbs and medicine Vivienne Lo, with an informative discussion hosted by Fuchsia Dunlop: who better to ask questions about herbs in China past and present?
Saturday drinks at the end of the afternoon started with a talk about anise and the rakı made with it in Turkey, with lots of interesting conversations in the breakout rooms. It was a great opener to the Asma Khan dinner with its array of recipes that are still entrancing cooks on several continents. Asma Khan is thoughtful and powerful in her conception of what needs to happen in the food world. Her ideas have challenged us all to think freshly about what is possible. The warm conversations in the breakout rooms at the post-dinner bar reflected that, as did the live discussion with her the following week which touched many of us deeply.
As if we hadn't already been dazzled by aromas and flavours, after dinner on Saturday we visited the Spice Bazaar in Istanbul via Gamze Ineceli's lovely documentary, travelling virtually to a place that many long to visit or to return to when travel becomes more possible.
Sunday morning brought two prize-givings. First came the announcement of the Sophie Coe prize, awarded to Suzanne Belovari for her essay "Viennese Cuisine Before Hitler: One Cuisine in the use of Two Nations." Next came the Symposium's Rising Scholar Award, given to Julia Fine, who presented her very clear and interesting paper on turmeric's culinary role as a colouring in food in early modern Britain.
At lunch we were invited to come up with our own meal. For some it was lunchtime, for others supper, and in North America it was breakfast. We watched a lovely film about the great Sri Owen, and then engaged in a fascinating live discussion with Sri, as well as with the film-maker Janice Gabriel. It was thrilling to watch and listen as Sri Owen talked with her long-time friend Claudia Roden, and to marvel at how much both of them, so well-loved, have contributed to our understanding of the world.
In the afternoon we heard the reports from the Young Chefs (weren't they terrific? we hope to welcome them back next year) and then had the pleasure of listening to Harold McGee's keynote, focussed on smells. He talked about basil, thyme, and mint, about why and how herbs defend themselves with strong smells and tastes, as well as other weapons, and much more. The live discussion of his talk on the following day, hosted by Clive Cookson, was equally illuminating. I'm impatient to get hold of his new book Nose Dive, due out in the autumn.
The day wrapped up then, but unlike our usual end of Symposium Sunday afternoon, there was no room for regret that it was over, for it was moving into its live discussion phase.
Instead of being crammed into a weekend, the papers and presentations, were instead posted and available to be read and listened to at any time, no longer confined to a time and a place. And the presentations will stay up on the site, now that we've come to the end of the VSymp. (The papers, being drafts, will come down, as will the Q & A under them, so that they can be edited by their authors and by Proceedings editor Mark McWilliams, and made ready for publication.)
Despite the fact that we were going virtual, Trustee Cathy Kaufmann, who has a genius for programming as well as remarkable attentiveness to the intersections between paper topics, had arranged the weekend's schedule into panels of presenters as if we were actually going to be at St Catz. That work of hers paid off in the groupings of the "panels": two or three papers whose topics intersected at the practical or theoretical or metaphorical level or all of them. The result was that when we moved into the live discussions – one or two a day – the papers and presenters, and also the Symposiasts attending the discussions and posing questions in the chat threads, came to life in a remarkable way that we rarely are able to achieve in the limited time we have for each session at St Catz.
The live discussions have been extremely interesting. And the chats alongside too. I made it to most of them because I felt greedy. I didn't want to miss out, and unlike at St Catz, I didn't have to. Judging from the number of people came to them, it seems many Symposiasts felt the same way. They shaped my week: each day or two I'd read the upcoming papers and watch the presentations I haven't seen already, in time to be ready for the next discussions. The themes of the panels were wonderfully varied, and the papers travelled in time and space, from Apicius and garum in Rome, to cinnamon harvest in Sri Lanka, both colonial and present, to chile pepper varieties and their processing and use in China, Turkey, and Japan, and in hot sauce in the USA.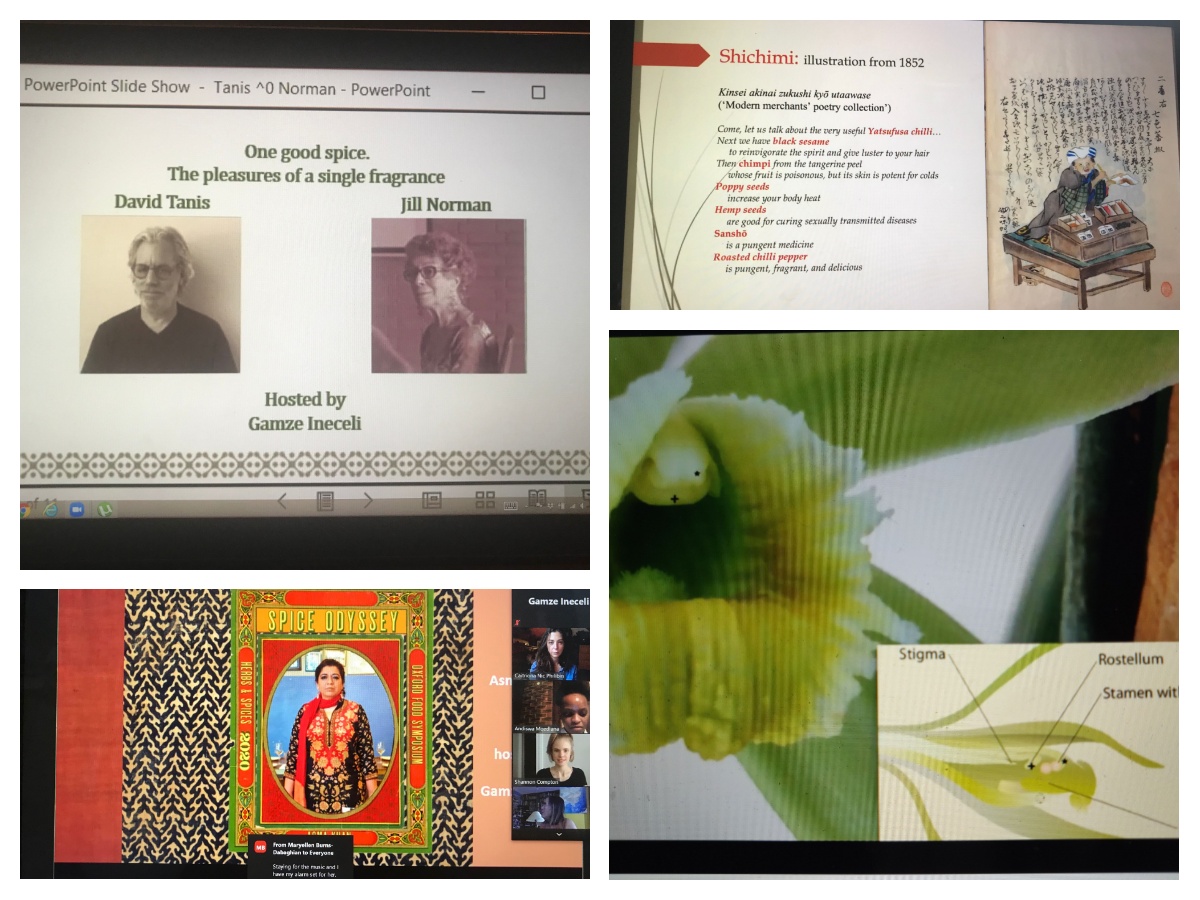 The discussions also gave us a chance to expand our personal tools, both the Wiki-editathon sessions with Roberta Wedge that demystified and encouraged becoming a contributor to Wiki, and the two sessions on Barbara Wheaton's remarkable research tool, The Sifter (www.thesifter.org). And on our penultimate day we were again able to spend time with Sri Owen, cook and writer and beloved Symposiast as she talked to us and in conversation with Elisabeth Luard, Claudia Roden, and Jill Norman about her food and her personal history. It was a remarkable session.
As we approached the last discussion days, I found myself bracing for the end of the VSymp, cushioned by my anticipation of the last keynote and also the topic selection process, one of my favourite parts of the Symposium each year. Both lived up to my expectations, and in fact surpassed them.
In his keynote food scholar and author Krishnendu Ray took an informed birds-eye view of the Symposium, discerning larger threads in the presentations and highlighting themes, and talking about the ways in which the Symposium differs from most academic meetings. Themes he noted included the near eradication of foraging and the loss of traditional knowledge of specific plants; thoughts about gastronomic logic as opposed to market logic; and the sense of the "anglosphere  devouring others" which I took to be the consumption by the entitled and wealthy of the production and resources of the less powerful. Altogether his talk was a wonderfully detailed reminder of the richness of the papers this year and of the ideas they explored. Krishnendu also had praise for the general approach of the Symposium. He pointed out that Symposium papers avoid "methodological nationalism" and that responses to papers in the Q & A and discussions are generally positive and constructive, the obverse of the academic tendency to "tear down". As Fuchsia Dunlop pointed out, this reflects the original goal of Symposium co-founder Alan Davidson that the Symposium should take an irreverent approach to academic disciplines.
In the discussion following his keynote, Krishnendu talked about the way in which disgust for segments of society, often expressed as food disgust, is now used as a political weapon in both India and the US to marginalize non-dominant populations. It was a powerful reminder of the importance of food as a way of understanding the worlds of power and politics, economics and culture. And it reinforced the role of the Symposium as a bridge between disciplines and between academia and the wider world, as Rachel Laudan and others pointed out in the chat. Krishnendu also spoke eloquently about the need for integrity in our engagement with the food culture of others. We could have continued listening and discussing for a lot longer.
But we had to move on to the delightfully contested question of the theme for 2023. There were many appealing topics full of potential, from "cities" to "emotions"; from "borders" to "technology". We went into breakout rooms to talk about our choices and ideas, a novelty permitted by Zoom. To give a feel of the noisy atmosphere when we make these decisions at St Catz we all unmuted briefly and talked at each other loudly. The suspense was tangible. And finally, on the third round of voting, it was decided by a clear margin: the theme for 2023 is "Rules & Ritual."
Meantime we were reminded by Ursula that to keep our expanded vision alive we'll need to raise substantial funds (btw: here's where you can invest in our future). Having taken this first flight on the Starship, I can say that everything feels possible, if we all pull together to make it happen.
I've been trying to sort out what exactly has made the whole VSymp so memorable and enjoyable. I think many elements all worked together, like spices and herbs in a well-judged dish. This as my impressionistic take on why I've loved this voyage and why I look forward to the next one.
This year for the first time, because events were spread out, we were able to watch all the presentations, rather than having to choose between equally fascinating topics in different rooms scheduled simultaneously. That meant that those who wanted to could participate in the live discussions in a more meaningful way. And with a full hour for discussion there was time to delve more deeply into various fascinating aspects with the presenters, instead of being short of time.
There's nothing like full access to make a conference feel extremely rewarding.
The V-Symp brought us a sound-track: amazing and surprising music, each time specially chosen to match the panel topic, like wine to match a feast, that welcomed us in and ushered us out of each discussion session. It became a passion for many, the music.
Without the constraints of the college's limited accommodation, we were able to double the number of Symposiasts from 250 to over 500, which was great. But more importantly, the lower cost of attending, as well as the convenience of not having to leave home and young children and other responsibilities, meant that more people from near and far (over 40 countries) were able to participate. It's thrilling that we have been able to open the doors to a wider world. We are all thereby enriched.
And that richness continues. While this voyage has come to an end, many parts of the Starship are still accessible. The site will continue to enable the Notice Board and our conversations by mail, so that we can continue to stay in touch and to share ideas. The V-Fringe will stay posted, but is no longer live for new additions. The taped keynotes and also the paper presentations will be up, but the draft papers will be gone. The Bloomsbury Food Library access ends on August 10, but the rest of the book stalls remain open.
On the human connection front, before we launched the Starship VSYMP I was hoping that the warmth and generosity of the live Symposium at St Catz would somehow survive its transposition to the virtual sphere. I wasn't sure how that could happen, but it was to me the most important goal.
And I feel that we have all, together, really managed that, and more so. We chatted in the tea breaks and at the bar in the evening, in all together and in breakout rooms. We got to learn about our fellow Symposiasts and to recognise each other's names and faces. I feel I met more people and built more of a connection with them than would have been possible in a short weekend, even though we have been virtual and not physically together. What a bonus.
I look forward to renewing our intimacy at next year's Symposium, whether it is solely virtual or also has a live weekend as well. And meantime I'll be contemplating our terrific 2021 theme – Food and Imagination – and the wondrous possibilities of the topic.