This year's Symposium opened with David Thompson's Jane Grigson Memorial Lecture on 'Thai Food, Stuffed, Wrapped and Beyond', followed by a surprising tasting of Thai wines from Monsoon Valley Wines. Dinner, a splendid affair prepared by Rowley Leigh of Le Café Anglais, assisted by St Catz's own chef Tim Kelsey and his team, featured Scottish langoustines and haddock wrapped in filo pastry and a magnificent saddle of lamb Wellington.
Saturday morning's proceedings began with the presentation of the Sophie Coe Prize to Di Murrell for her entertaining and scholarly essay 'Food on the Move', a study of canal food, and a showing of Anissa Helou and Jane Levi's video introduction to a whole world of wrapping and stuffing techniques. This set the scene for Laura Shapiro's wonderful talk, 'The Magician's Kitchen', on the phenomenon of the Pillsbury Bake-Off. Harry West then presided over our first Plenary Discussion Session along with panelists Emma-Jayne Abbotts, Ben Coles, and Michael Goodman.
View a PDF programme of events and list of plenary and parallel sessions.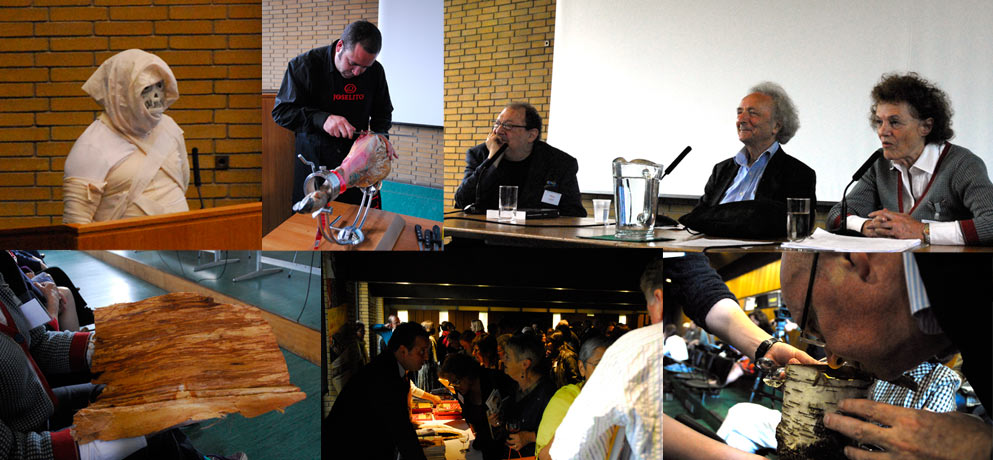 Lunch, arranged by Ursula Heinzelmann, was a celebration of German sausage-making accompanied by specially-baked German breads and appropriate accompaniments, including an unusually good saurkraut. After lunch, talks ranged from Len Fisher and Janet Clarkson discussing the surprising history of mummy eating and Ben Reade describing the preparation and appreciation of bog butter to Nilhan Aras's paper on the therapeutic properties of sarma and dolma for the women of Anatolia and Jin Kyung Kim's on Koreans' appetite for an amazing range of wrappings and stuffings.

After tea and coffee, parallel sessions resumed with explorations by Fuchsia Dunlop and Aylin Öney Tan of the origins and etymology of mantı and mantou, by Sharon Hudgins on the extraordinary profusion of pel'meni throughout Siberia and beyond, by Frank Sciacca and Naomi Guttman on pierogi in the new world, by Christopher Kissane on the meaning of late 15th- and early 16th-century stuffed and wrapped foods, and by David Sutton on surprise pie-stuffings. One of the late sessions featured Taissa Csáky's recreation of Samuel Pepys' venison pasties, Elizabeth Field's exploration of haute knishes, and May Rosenthal Sloan's case for 'Culinary Mongrelism'.

And so to dinner, a lovely Turkish supper from Gaziantep, organised by Anissa Helou and Aylin Tan, featuring folded börek, mini spiced walnut spread rolls, fried cheese rolls, along with Turkish wines and, of course, coffee.
On Sunday morning, Chair Paul Levy opened the proceedings by presenting the Young Chef Scholarship to Lucas Weir who had already assisted Rowley Leigh and Tim Kelsey with the preparation of the Friday dinner. Following this, Cathy Kaufmann introduced the winner of the Cherwell Prize, Jaclyn Rohel, who treated us to a presentation on paan culture in London. In the morning's first plenary talk, Barbara Santich discussed Aboriginal paperbark cooking, a technique unappreciated by early Australian settlers all too willing to find the natives uncivilised.

After coffee, symposiasts were treated to a demonstration of the esoteric skill of carving a whole jamón iberico courtesy of Joselito, one of the most famous names in Spanish hams. The ham was destined for consumption with our sandwich lunch – a splendid affair in its own right – organised by Susan Haddleston and delivered by Tim Kelsey and his staff, which followed a discussion led by Theodore Zeldin, co-founder of the Symposium, on the importance of table talk.
After lunch, parallel sessions resumed with Adam Balic unwrapping the origins and naming of haggis. Other matters discussed in the concluding parallel sessions ranged from Jan Davison's survey of the artisianal air-cured sausages of Europe and Allyson Sgro making the case for the use of casings to Susan Weingarten exploring Rabbinical kreplach and Anthony Buccini tracing the origins of lasagna, all with the Symposium's characteristic mix of expertise, scholarship, and wit.




The OSFC warmly thanks the sponsors featured below.
We are very grateful for their generosity.
LE CAFE ANGLAIS FRIDAY SUPPER
Organised by: Caroline Conran
Cooked by: Rowley Leigh – Le Cafe Anglais, and Tim Kelsey and the team at St Catz
Sponsored by: Seafood Scotland, Foods & Wines from Spain kindly sponsored:Rueda Verdejo 2011, Ribera del Duero Crianza 2007. Monsoon Valley Wines, Siam Winery kindly sponsored the reception wine.
SATURDAY SAUSAGE FEST
Organised by: Ursula Heinzelmann Cooked by: Tim Kelsey and the team at St Catz
Sponsored by: Albgold – André Freidler, Kurpfalz-Weinstuben – Rainer Schulz, Blutwurst-Manufaktur – Mathias Helfert, Fleischerei Naesert – Jürgen Naesert, Backhaus – Carola und Gerd Kusche, Kimmich's – Jörg Kimmich, Senfmühle Kleinhettstedt – Friedrich Morgenroth, Distelhäuser – Roland Andre, Weingut Juliusspital – Horst Kolesch, Weingut Dr. Loosen – Ernst Loosen.
GAZIANTEP TURKISH SATURDAY SUPPER
Organised by: Anissa Helou in collaboration with long-time Symposiast Aylin Öney Tan and Gaziantep Chamber of Commerce.
Cooked by: Turkish guest chefs: Mitad Babacan And Fatih Babacanwith Tim Kelsey and the team at St Catz
Sponsored by: Gaziantep Chamber of Commerce, Kayra Wines, Kurukahveci, Mehmet Efendi Mahdumları, Antepliler Islington restaurant, London.
SUNDAY SANDWICHES, TRUSTEES CHOICE
Organised by: Susan Haddleton
Cooked by: Tim Kelsey and the team at St Catz
Sponsored by: Joselito Iberico Ham, Winzerhof Stahl, Birchgrove free range eggs, Syposium Beer from the Compass Brewery, Ultracomida