Books and Downloads
E

ach year, papers presented at the Oxford Symposium on Food and Cookery are collected in a volume of Proceedings – edited by Mark McWilliams, and published by Catheryn Kilgarriff at Prospect Books.
Volumes from Symposia prior to the most recent three years are available on Google Books and as free downloads here – use the links below. The OSFC would like to thank Catheryn Kilgarrif and Tom Jaine, current and former publishers of the Proceedings, for their cooperation in making the PDFs available to us, and to all our sponsors and contributors for making this service possible.
Please consider making a small donation to enable us to keep offering these downloads free of charge – thank you.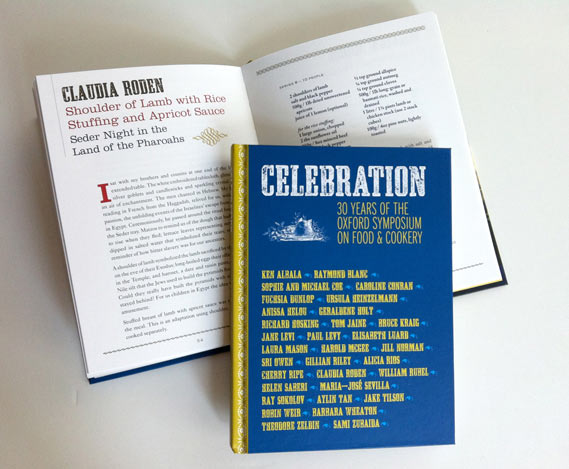 Celebration: 30 Years of the Oxford Symposium on Food & Cookery
This volume, edited by Jill Norman, contains memories of the Symposium from some of the most prestigious symposiasts, from 1981 to 2011.
Contributors include: Theodore Zeldin on 'What Recipes Reveal and Conceal', Ken Albala on 'Breakfast', Raymond Blanc on 'Essence of Tomato', Sophie and Michael Coe on 'Borshch', with a fine recipe, and Caroline Conran on 'Cuttlefish Rouille', again with two fine recipes. The illustrative material from the archives show how the event developed from a gathering of like minded souls, enjoying dinner together, to the current day fabulous celebration of food history, with over 300 people, enjoying curated banquets, now in the dining hall of St. Catherine's College, every July.
A fine record of this annual event, with menus designed by Jake Tilson, and a great collection to remember those who have now departed this earth, the coming stars and the redoubtable committee who work tirelessly on the event.
Price: £10.00 80 pages Hardback 
Buy a copy