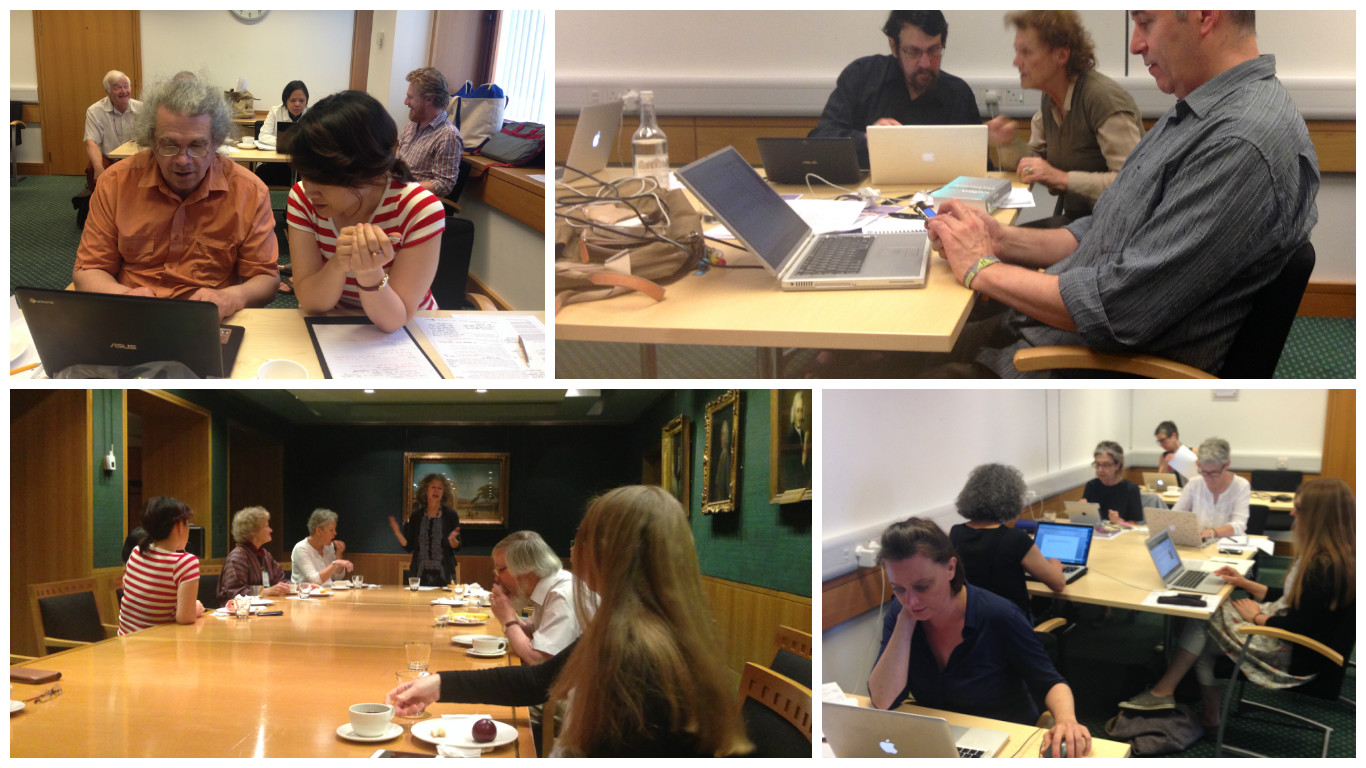 I

t's women who've been cooking the flaming thing for thousands of years [1].So why are they not on Wikipedia?

Wikipedia – the free online encyclopedia – is now the default way that the world gets its knowledge. In some fields, it is now considered more reliable than an old-fashioned reference book. Yet Wikipedia is still far from comprehensive. When it comes to women in the field of food – whether past or present – the gaps are huge and often puzzling. Our project seeks to improve and expand Wikipedia's coverage of food, especially those entries related to women.

We are part of a broader effort led by Wikipedia to redress imbalances in its content. Although anyone can contribute, a 2010 survey by the United Nations University found that around three-quarters of Wikipedia editors are men. This gender imbalance among contributors has resulted in many fewer entries about women being created. In the field of food – where so many women have been cooks, as well as cookbook authors, inventors, nutritionists and food writers – this gender gap is especially glaring.

Our aim is to transfer some of the collective food scholarship and resources of the Oxford Symposium on Food and Cookery and the British Library onto Wikipedia. The food archives at the British library include not just books but periodicals, oral history recordings, manuscripts, government reports and statistics, patents and visual sources such as drawings, photographs and advertisements – we're hoping to draw on all these as part of our ongoing wiki-editing.

We have so far held three successful wikithons at the British Library in collaboration with curator Polly Russell and supported by the British Library Labs project. Some of the entries we have so far helped to create or improve include: Sophie Coe (historian of chocolate), Countess Morphy (cookbook author), Doreen Fernandez (scholar of Filipino cuisine), Catherine de' Medici, Beatrice Vieyra (Anglo-Indian cookbook author), Dorothy Hollingsworth (nutritionist), Judy Rodgers (chef), Charlotte Knight (horticulturalist), Phyllis Richman (food critic), Jeanette Orrey (school dinner lady) and Marion Nestle (professor of nutrition).
Scope
We interpret "food-related topics" in the broadest sense. We include beverages; utensils and tableware and dining institutions and traditions, from cafés to Tupperware parties. We also encourage contributions that address women's roles in transforming raw agricultural products into comestible form (for example, grinding corn into flour).
​Although our core mission focuses on improving Wikipedia's coverage about women and food, we welcome contributions about unsung men in this arena as well. In the long-standing tradition of the Oxford Symposium on Food and Cookery, we especially emphasize the expansion of entries about people and cultures that lie outside the usual gaze of the Western press. Our group has added English-language entries about seminal cookbook authors from other cultures such as German author Anna Wecker and about food practices, such as the dishes served in China and other parts of Asia as part of the special postpartum confinement period.
Who we are
The Oxford Symposium on Food and Cookery and the British Library created this group in late 2014. Members contribute from across the globe. Our group includes leading food scholars as well as students and interested amateurs and is open to anyone.
​In March 2016 we launched our first "roving editathon" with new satellite groups at the Schlesinger Library of the Radcliffe Institute for Advanced Studies/Harvard University and New York University's department of food studies. We currently have groups in development in Paris, Dublin, Bristol, Sydney, San Francisco and Chicago. We are also developing "webinar training" for contributors from Saudi Arabia, Brazil, Turkey, Italy, Canada and beyond. ​
Ways to participate
Identify a Subject, write about it (anywhere), and let us know
​Please let us know if you have published on a person or topic that does not have a corresponding Wikipedia entry or one that needs correcting. We'll add it to our list.
​We especially encourage those who have done significant primary research on a topic to contribute in this way. If you'd be willing to partner with a student, who will transform your article into a Wikipedia entry, that's even better.
If you'd like to participate in any way, please contact Carolin Young
young[dot]carolin[@]gmail[dot]com
Create Wikipedia entries (we'll teach you how)
Whether or not you are an expert, if you identify a person or topic that deserves to have a Wikipedia entry (or to have an expanded/improved one), then sit down and write about it. If you don't know how, we can guide you through the process online or at one of our events.
​The first step is to gather the necessary references. We also recommend drafting an entry in advance that we can help you tweak into Wikipedia's format.
How to Edit Wikipedia – Some Tips, with thanks to Andrew Dalby and David Palfrey
Anyone with access to a computer can become a Wikipedia editor. The main thing to do is to get started. The vast majority of Wikipedia users never make the leap into editing. First, you need to create your own Wikipedia account. It takes about ten seconds. You can use your own name, but most people use a pseudonym. Any edits you make can be seen and tracked by other editors with your account name.
You might find it easier to start by editing an already-created article instead of starting one from scratch. Just click on the edit tab at the right hand corner of any Wikipedia entry and you can start editing. The most confusing part of Wiki editing to start with is probably the editing language and syntax, but there are lots of short-cuts you can take. You should also know that once you have created your account, you are given a 'sandbox' where you can work on articles in a protected space (don't forget to save!) before you decide they are ready to go live.
Something to bear in mind is that Wikipedia prizes 'neutrality' very highly. For this reason, secondary sources may count for more than primary ones in the footnotes. To be the subject of a Wikipedia article, (a) a thing or person has to be 'notable' and (b) this quality has to be demonstrated via independent sources. This can be frustrating for scholars who work mainly with manuscript sources. Our Wikimedia advisors told us that a good tip is to put as the first footnote something from a general reference work such as Encyclopedia Britannica or a dictionary of biography or some other secondary source. This will signal to other Wikpedians that the subject you have chosen is 'notable'.
For a more extensive tutorial on how to do Wiki-editing, this online tutorial is very useful.
https://en.wikipedia.org/wiki/Wikipedia:Tutorial
At our second wikithon, seasoned Wikipedia editor David Palfrey produced this quick cribsheet on how to create a short biographical entry. He used as an example the food writer Ruth Lowinsky, whose entry he created for the occasion.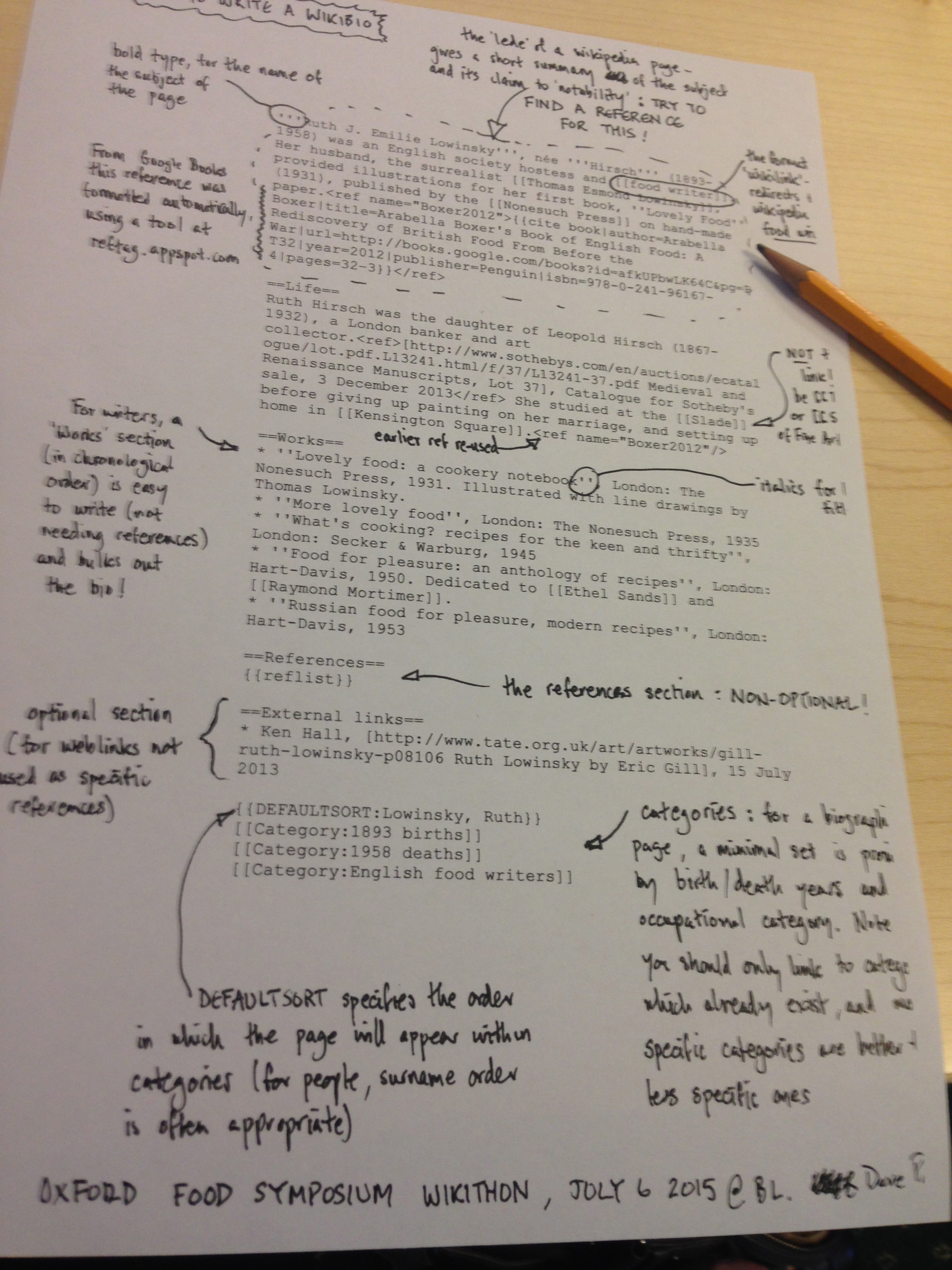 'How to get more Women onto Wikipedia (and share food knowledge for all)', Food52, 17 March 2016
'Meet the Women Bringing the Kitchen to Wikipedia', New Statesman, 17 April 2016
BBC Woman's Hour, 27 April 2016 (from 23:50)
Wikipedia Meetup/US women food writers
Blog post by Bee Wilson about Wikithon, July 2015
Footnotes