I

n Stevie's do-it-yourself menu, the ready-ground spices were placed on the table to be blended with pestle and mortar.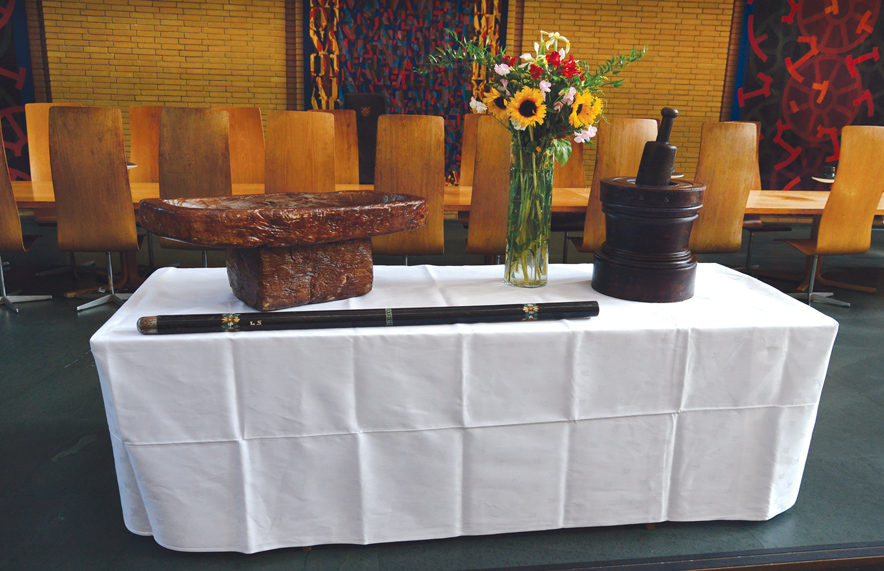 ---
Chaat masala salad
Serves 4-6
Spice mix:
2 tsp amchoor*
1/2 tsp ground coriander
1/2 tsp ground cumin
1/2 tsp ground chilli
1 tsp ground cardamom
1/2 tsp ground cinnamon
A tiny pinch of asafoetida
Vegetables
A small bunch of asparagus
A small bunch of radishes
½ cucumber
A handful of small, ripe tomatoes
¼ pineapple
2 handfuls of broad beans, podded
Dressing
Juice of 1 lemon
A drizzle of olive oil
1. Chop all the vegetables so they are all the same size and place in a large bowl. Combine the chaat spices, then sprinkle over the salad along with a little salt, a squeeze of lemon and a drizzle of oil. Combine with your hands.
---
Potato bondas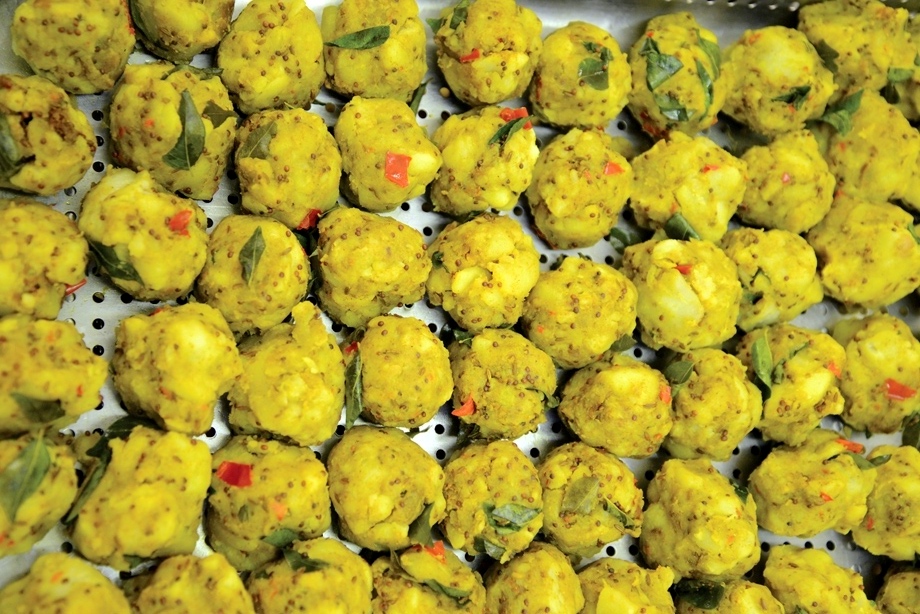 ---
Makes about 20
400g potatoes, peeled
2 tbsp vegetable oil
1 tbsp mustard seeds
1 tsp cumin seeds
1 small bunch of curry leaves
1 red chilli, seeds removed and chopped
1 tsp coriander seeds, ground
1/2 tsp turmeric
Batter
200g gram flour
1/2 tsp chilli powder
1/2  tsp fennel seeds
1/2 tsp cumin seeds
1 tsp mustard seeds
Coriander leaves
water
1l vegetable oil, for frying
Sauce
Greek yoghurt, loosened with a dash of water, to serve
Tamarind water, to serve
1. Boil the potatoes in salted water until tender and just falling apart, a bit longer than you cook them for boiled potatoes. Drain and leave to steam dry.
2. In a wide pan, heat the oil. Add the cumin seeds and mustard seeds and when they begin to crackle, add the curry leaves, chilli, ground coriander and turmeric. After a minute, add the potatoes and fold them into the spice mix, breaking them up as you go so you have a lumpy mash. Season with salt to taste.
3. Transfer to a baking tray and leave to cool. Once cool, shape into golf ball-sized balls.
4. Make the batter by slowly whisking water into the other ingredients – you want it to have the texture of double cream.
5. Heat the oil for frying, ideally in a deep-fat fryer. Dip the balls into the batter then carefully drop into the hot oil. Fry for about 4 minutes until golden. Place on top of the chaat salad and spoon over yoghurt loosened with a little water and some tamarind water.
---
Lamb shoulder cooked in seven spice and pomegranate molasses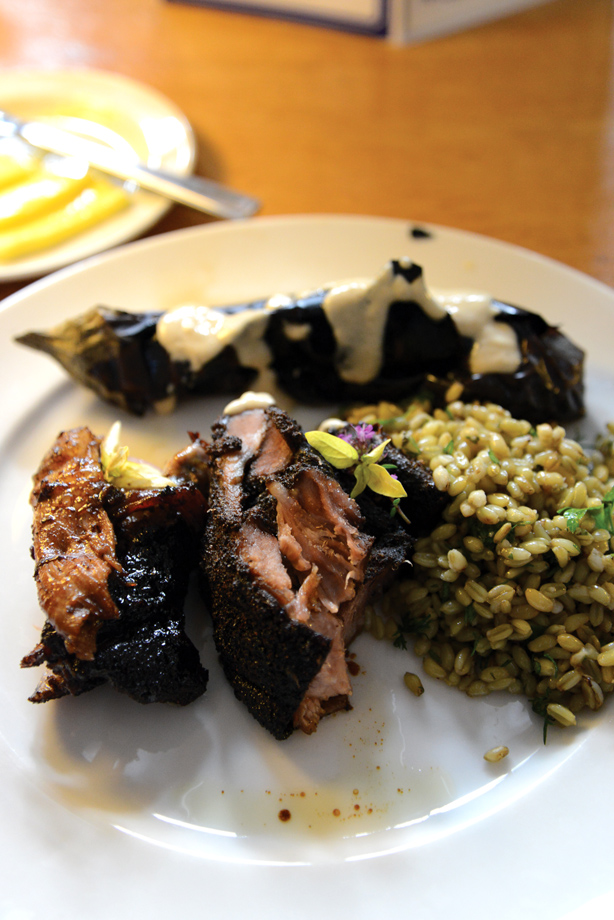 ---
Serves 6-8
1 lamb shoulder, on or off the bone
Salt
Olive oil
3 tbsp seven spice mix
Approx. 200ml pomegranate molasses
1. Preheat the oven to 160C/325F. Season the lamb shoulder with salt and rub it with olive and then seven spice mix. Place in a large baking tray and add 1-2cm deep of water to the tray. Cover with tin foil and cook for approx.  3 hours until the lamb is falling apart.
2. Turn the oven up to 200C/400F. Remove the foil, then pour over the molasses (and add another splash of water if it has evaporated) and return the lamb to the oven, uncovered, for 10-15 minutes, until the lamb is slightly crisp. Keep an eye on it so the spice mix doesn't burn. Shred with forks and serve.
---
Freekeh with soft herbs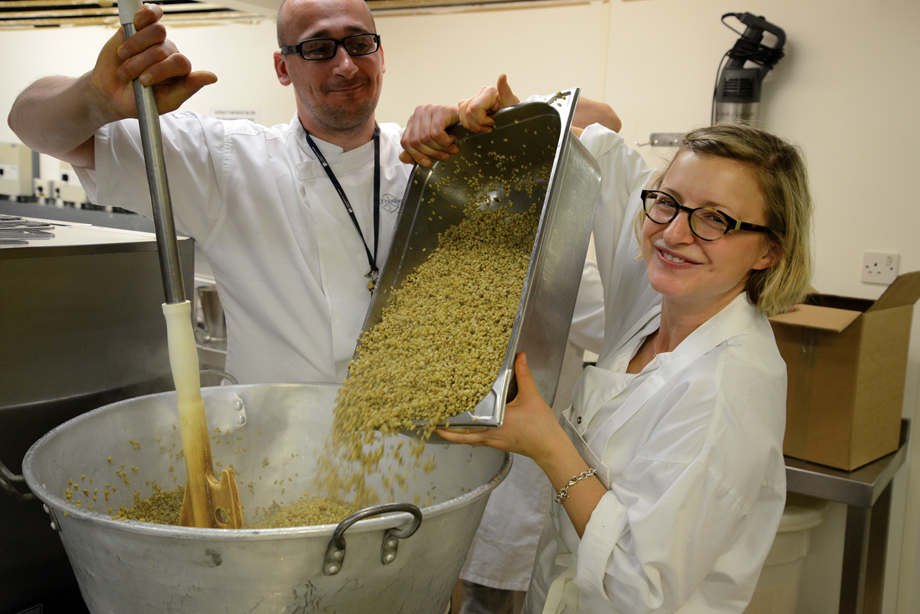 ---
Serves 10
1 packet of freekeh
Juice of 1 lemon
Olive oil
A handful each of parsley, dill and mint, roughly chopped
1. Rinse the freekeh well. Cover in cold water and bring to the boil. Cook for approx. 60-90 minutes (the cooking times mysteriously seem to vary), until it is completely tender.
2. Drain, and while hot, season will salt, lemon juice (to taste) and a good glug of olive oil. Stir in the herbs and serve.
Grilled aubergine
Place the aubergine under a salamander or over a grill until completely blackened and gives away to the touch. Split them open and serve.
---
Tahini sauce
Serves 6
1/2 garlic clove, crushed with a pinch of salt
2 heaped tbsp tahini
Juice of 1 lemon
8 tbsp water
3 tbsp oil
Salt, to taste
1. Combine the garlic and tahini, then squeeze in the lemon. The mix will immediately thicken. Pour in the water and oil and continue to stir, adding more water until you achieve the desired consistency.
---


Serves 6
1l whole milk
100ml double cream
90g caster sugar
Zest of 1 orange
Zest of 1/2 lemon
1 cinnamon stick
1/2  vanilla pod and seeds
4 cardamom pods
A pinch of saffron threads
Salt
120g risotto rice
A splash of orange blossom water
1 egg yolk
2 heaped tbsp Greek yoghurt
Cherries
Cherries, de-stalked and de- stoned
Lemon juice
Demerara sugar
Rose water
Sprinkles
Handful of cardamom pods
1 tbsp golden granulated sugar
1 tsp dried rose petals
1. Put the milk, cream, sugar, zest, cinnamon, vanilla, saffron and a pinch of salt in a large pan and bring to the boil. Wash the rice and soak it in water for 20 minutes. When the milk comes to the boil, add the rice, then lower the heat and simmer gently for 40-45 minutes.
2. Remove from heat and leave to cool slightly. Whisk the egg yolk with the yogurt and stir into the warm rice, removing the cinnamon and vanilla pod. Add a little orange blossom water to taste.
3. Preheat the oven to 200C/400F. Place the cherries in a bowl and add a squeeze of lemon, the sugar and rosewater. Place in a baking tray and roast for 5 minutes until just cooked. Spoon over the rice.
4. In a pestle and mortar, crush the cardamom, remove the pods and crush the seeds with the sugar to make cardamom sugar. Sprinkle over the cherries and rice, along with a few dried rose petals and serve.
* North-India souring-agent prepared from powdered dried unripe mango. Sumac is a possible substitute.