T

his is what we ate for lunch and dinner at
The Oxford Symposium on Food Cookery this year.
Menu-cards by Trustee Jake Tilson. 
All meals thanks to Head Chef Tim Kelsey and the team at St. Catz.
Allegra McEvedy's scene-setting Market Dinner on Friday evening
Allegra and her team served a fabulous eat-with-the-fingers feast of porky things – well, she's to be found flipping the hot pans at Blackfoot in Exmouth Market when not writing her column in The Guardian. Here's her finger-licking menu:
Nibbles for drinks were chorizo, lomo and croquetas de bacalao
Peas, broad beans and radishes
Manaquish flatbreads
Sheep's cheese with herbs and spices
Pig sarnie
Porchetta rolls with salsa verde
Crispy pig's ears and crackling
Cime di rape & tallegio pizza
Strawberry, mint and hibiscus jelly cups
Allegra used produce generously donated by New Covent Garden Market (raw veg), Riffel, Ultracomida & Ubago (bacalao), Dingley Dell Pork, Iberiflavours (lomo and chorizo) and our wines were provided by Foods and Wines from Spain.
Saturday's Russian Street Food Lunch with
Karina Baldry and Katrina Kollegaeva of Russian Revels
Karina and Katrina's inspirational Russian lunch using local ingredients was prepared in honour of Saturday's Plenary Speaker, Anya von Bremzen, author of "Mastering the Art of Soviet Cooking".
Cold beetroot okroshka soup (with Organic Bio-tiful kefir)
Potato and caraway bread (from Karaway Bakery)
Gherkins in pastrami blankets
Anya's beef kotleti
Hawberry ketchup (from Foraged Fine Foods)
Summery Olivier Salad (with mayo from Birchgrove Eggs)
Buck-ouleh
Curd cheese with apricots and sunflower seed butter
Rose petal preserve (from Foraged Fine Foods)
We drank Kvass (Russian Soda). Their website is www.kvass-russian-soda.com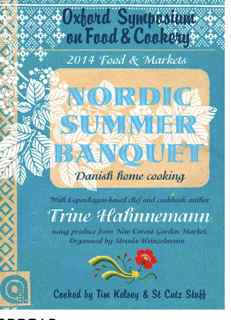 Trine Hahnemann's Nordic Summer Banquet
Trine – cooking with her sister Silla Bjerrum – sets the scene for our Saturday evening dinner: "Imagine you are sitting in my kitchen on a summer evening in Denmark; this is what I would be cooking for us:" 
Lightly cured salmon with lovage, radish, cucumber, horseradish and cress
Rye focaccia
Black barley from Skaertoft Molle, spring cabbage, cauliflower
Lamb with fennel, fennel seed, white wine and elderflower cordial
Baked celeriac
Cheese from Knuthenlund in Lolland and fruit compote
Crisp bread from Peter's Yard
Cold Buttermilk soup with strawberries and kammerjunker biscuit
Danish chocolate from Mikkel Holm
Trine used produce generously donated by Skaertoft (Rye flour and black barley), Peters Yard (crisp bread), New Covent Market (fruit and veg).  First course wine was 2013 Riesling Mayer am Pfarrplatz, Vienna. Second course wine was 2012 Wiener Gemischter Satz Nussberg Alte Reben Wieninger. Cheese course wine was 2011 Merlot Cobenzl, Vienna. Dessert wine was 2013 Traminer Kirchberg Christ, Vienna.
Pepe's Social Stew of Leftovers in homage to Food Artist Alicia Rios
Sunday's Leftover Lunch was prepared and presented by food performance artist Joseph Pepe Patricio aided and abetted by Head Chef Tim Kelsey and the staff at St. Catz. Materials for the feast arrived in procession on trolleys preceeded by trumpet (voluntary) – and the cooking was finished at High Table, You had to be there to know how delicious it was and no, I don't know how he did it (but I'll ask!). All was eaten with the fingers (challenging but educational).  This is how Pepe explains the process of redesigning what went before: 
A collective rumination of nourishments past and future; an edible tribute to Food Artist Alicia Rios.  
First course: a window of opportunity opens as the marketplace closes.
Second course: The view widens as the chefs work magic with last-minute bargains.
Dessert: The Symposium reborn!