Tim Kelsey, Head Chef at St Catz, talks about the experience of cooking for 250 Symposiasts for the last fourteen years
This year, with the Symposium going virtual, lock-down seems like the right time to look back over the years. It was in 2006, when the Oxford Food Symposium's Trustees decided to bring the conference here to St Catz, that I first attended a meeting with the organisers. They were interested, they told me, in the food that would be served during the weekend, and would like to link it to the year's theme. The aim being that the lunches and dinners served at communal tables in our college dining hall should be not only reflect but increase understanding of the chosen topic. The first year's subject was Eggs. This sounded like something different, so I thought "why not? It could be fun!!"
That year, 2006, there were 180 guests and the catering was in-house. Fourteen years later the numbers have increased to 280 and we have guest chefs coming into the St. Catz kitchen to cook featured meals, or we work with food writers to create their suggested menus. There are four meals to be prepared over the weekend: Friday dinner, Saturday lunch, Saturday dinner and Sunday lunch. I estimate that so far we have prepared more than fifty different menus. Chefs and cookery writers we have worked with include Raymond Blanc, Fergus Henderson, Shaun Hill, Stevie Parle, Henry Harris, Claudia Roden, Elisabeth Luard, Olia Hercules and Fuchsia Dunlop.
Another feature of our annual kitchen-action is the result of the Symposium's Young Chef Award, competitively selected among many applicants. The Award includes residential weekend at the Symposium and the chance to work on Friday's gala dinner with one of our invited chefs. When Naomi, my daughter, won one of the Awards in 2016, she took the opportunity to attend the lectures and meet people. The result was that long-time Symposiast Cherry Ripe, discovering that Naomi wanted to cook in Australia, offered to host her so she could experience restaurant work in Sydney. Naomi enjoyed Australia so much she stayed and is now living in Melbourne!
Over the years, I have met inspirational people who taught the team at St Catz new ways of looking at cooking. Sometimes we, the Catz team, were able to use our experience to advise our guest chefs on the best way to achieve their vision of their dishes, particularly scaling-up and serving to deadline. Sometimes it's the other way round. As in 2009, when Raymond Blanc's Head Chef Gary Jones arrived at 5.00pm on Saturday with his team, after doing a wedding. A whirlwind entered the kitchen, all very professional and focused on preparing dinner. I remember Gary's reply to my comments was "…next time", a gentle way of saying 'no thanks – we'll do it our way!' Gary offered work-experience at the Manoir: I have yet to take it up, but hopefully the offer's still open!
There have been entertaining times: hours preparing baby artichokes for presentation in leaf, then seeing them diced finely for a risotto. Scary times too – not many, but once when our heavy-duty bratt pan was set alight, we had to deal with a full-fledged fire! Fun times – well – for me, highlights include the opportunity to visit restaurants such as Masala Zone, St. Johns, Bar Shu, a chance to join Sri Owen in her kitchen and visit Dublin for a meal at Boxty House with Symposiast Máirtín Mac Coniomaire and Pádriac Og – in 2017, I think they took the record for greatest amount of Irish coffee served in any one night!
Most memorable dishes? Some of these we continue to use in the kitchen. Suitable for this year's theme would be Sri Owen's Indonesian Peanut Sauce, Stevie Parle's lamb with seven spices and pomegranite molasses, Olia Hercules'; lamb cooked with tarragon, dill and coriander. Most surprising? Well – chef Batti from Masala Zone strained a great deal of yoghourt through muslin overnight, sweetened and infused it with saffron and – oh yes!- finished it off with gold leaf.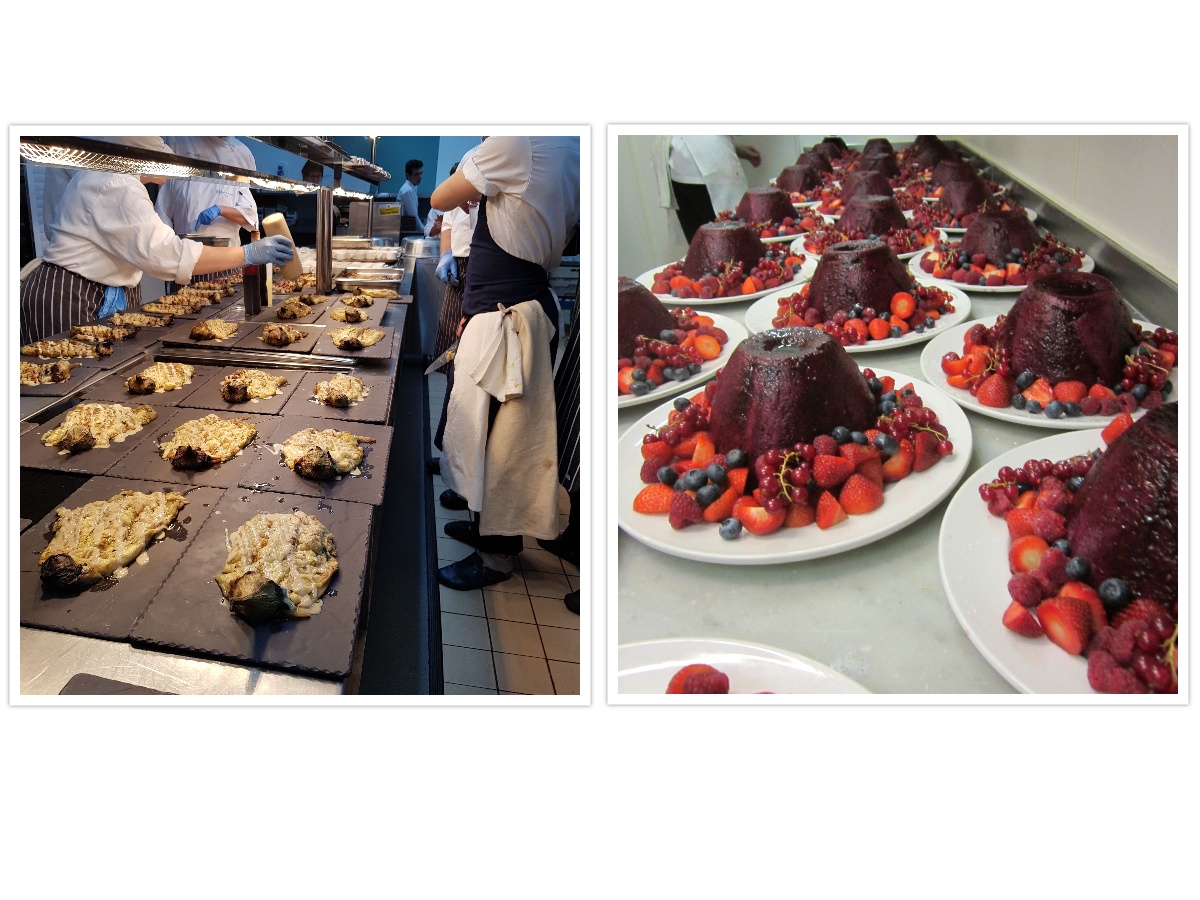 After Sunday lunch when it's all over for another year and everyone has said good-bye, the fridges are emptied and the floor mopped and surfaces wiped down, by about 4.00 pm we are tidy again. A feeling of calm comes over the kitchen before we turn back to real life -preparing dinner for another two hundred people.